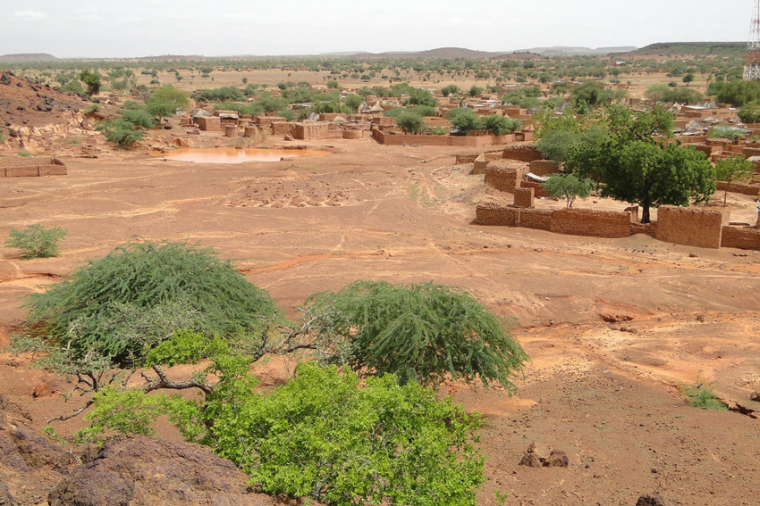 God is love, and our mission to serve humanity and reach the lost is inspired by its passion. That statement is summed up by this couple.
The story of doctors Ken and Jocelyn Elliott should inspire and challenge us all.
They shared a desire to show the love of God in a practical way. With their valuable qualifications they reached out in service to the poor, offering their medical skills on a four-year mission with SIM (Serving in Missions) With SIM they reopened a hospital, in Africa, which had closed down. After that four-year stint, the Elliotts felt called to serve in the Burkina Faso area, where two million people had no access to a doctor.
In a video recorded in 2012 Dr Ken Elliott said: "We're doing what we believe is mission work… meeting a need. Our ultimate aim is to show the love of God, the goodness and power of God, through medicine."
The Sydney Morning Herald reported on their work in January, 2016 in an article headlined: "Ken Elliott and wife Jocelyn built a surgery for two million people from the ground up in Burkina Faso" Journalist Eryk Bagshaw described their labour of love: "For 43 years, Australian couple Ken and Jocelyn Elliott built their hospital, brick by brick, bed by bed, a white surgery stark against the red dust of Burkino Faso in western Africa.
Kidnapped
He wrote about the 'daily grind' in their 'adopted home, no X-rays, no doctors, a few stretchers on bare concrete floors." Dr Ken Elliott was the only surgeon for two million people in the area.
That dedicated, heroic service came to a sudden and abrupt stop on an early January morning when extremists dragged Ken and Jocelyn from their home.
Dr Ken and his wife Jocelyn were kidnapped in Burkina Faso, in 2016. On November 12, Dr Ken Elliott, known as 'the Doctor of the Poor', turned 83. He is also known as the 'Saviour of the Sahel.' (Sahel being the semi-arid region of the Sahara that spans 10 African nations.)
At the time of my writing this tribute, Dr Ken Elliott is held captive by Al Qaeda linked extremists, probably in Western Africa. I have been praying for his release and hopefully that will be soon.
Hopes rose last July when a proof of life video was released by al-Qaeda. Dr Ken Elliott was shown along with five other hostages. The video was released ahead of an anti-terror conference in West Africa. Shown in the video were Stephen McGowan (South Africa), Iulian Ghergut (Romania), Beatrice Stockly (Switzerland), Gloria Cecilia Narvaez (Colombia), Sophie Petronin (France), along with Dr Elliott.
The newly elected French President Macron was in western Africa for the anti-terror summit. The al-Qaeda video narrator taunted him saying that their French captive "is hoping the new French president will come to her rescue."
While Macron was encouraged by the sign of life, he said, 'these people are nothing! They are terrorists, thugs and assassins! And we will put all our energies into eradicating them."
Behind this video was the Islamist group Nusrat al-Islam wal Muslimeen formed around March this year. This is a merger of three extremist groups: the al-Qaeda linked al-Mourabitoun, Ansar Dine and al-Qaeda in the Islamic Maghreb.
They demanded the 'release of our captives who sit behind bars and suffer the pain of imprisonment, as well as being deprived of their basic rights.' according to a recording from Al Qaeda in the Islamic Maghreb (AQIM)
Dedicated
Jocelyn Elliott was released after three weeks, following negotiations by the governments of Burkina Faso and neighboring Niger. Senior officials within AQIM also declared women were not to be involved in war. "I am very moved to be here with my Burkina family,' the 76 year old Jocelyn said but added: "I want to be with my husband shortly so that we can go to Djibo and continue there."
Ken and Jocelyn Elliott lived in Djibo, near Baraboule since 1972. Around the time of their kidnapping jihadists attacked an upmarket hotel in the Burkina Faso capital city Ouagadougou. 29 people, including foreigners, were killed.
There is a website 'a Tribute to Influential Australian Christians'. Their tribute to Ken and Jocelyn is worth reading. They highlight the dedication and humble generosity of the Elliotts: "Very few Australians knew the inspiring story of a West Australian farm labourer who put himself through medical school then, with his industrious wife, brought surgery and medicine to one of the poorest nations on Earth. It has never been the Elliotts' way to seek attention."
Hope radio (103.2) spoke to the headmaster at the high school in Djibo, Amadou Maiga. "The people here really need Doctor Elliott. He's the savior of the Sahel,' the headmaster said. He described Dr Elliott as 'very reserved' and 'always very busy.' He added Jocelyn was 'very much loved and cherished.'
'Their whole lives revolve around this clinic,' Mr Maiga said. They are described as a devout Christian couple.
As a youngster Ken dropped out of school to work on the land, skills he learned then, prepared his for life in Burkina Faso.
He entered medical school at 21 and worked at the Fremantle hospital, the London School of Hygiene and Tropical Medicine and he had frequent trips across the Kalgoorlie desert with the Royal Flying Doctor Service.
When asked about their success in Burkina Faso Dr Ken said: "When we first came, we came with nothing. I would make the worst business man in the world because I was in no way prepared to do what has been done."
Consider this comment: "We're meeting a need physically, but our ultimate aim is to show the love of God. The goodness and power of true medicine," the good doctor said.
Please follow this story. Visit the Facebook page – Dr Ken Elliott 'doctor of the poor." And join me in praying for his safety and his release.
Ron Ross is a Middle East consultant for United Christian Broadcasters (Vision FM). Previously he was an evangelist with Youth With a Mission (YWAM). His career started at WINTV (Email: ronandyvonne@mac.com)
Ron Ross previous articles may be viewed at http://www.pressserviceinternational.org/ron-ross.html